News / Media
KraneShares KCCA Wins Best Newcomer ESG/Impact ETF of the Year at the 2022 Mutual Fund and ETF Awards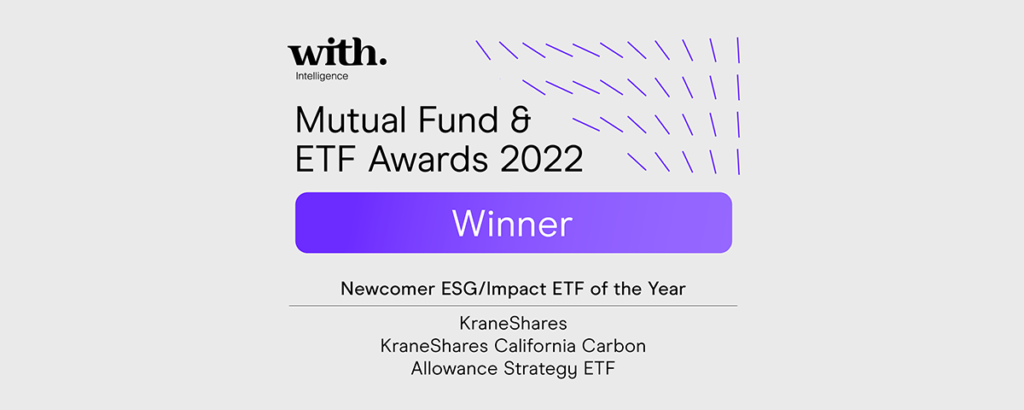 New York, NY June 24, 2022 – Krane Funds Advisors, LLC, ("KraneShares") an asset management firm known for its global exchange-traded funds (ETFs) and innovative investment strategies, is pleased to announce that the KraneShares California Carbon Allowance Strategy ETF (NYSE: KCCA) was named Best Newcomer ESG/Impact ETF of the year at the 2022 Mutual Fund and ETF awards. There were four other ETFs up for consideration. The newcomer funds had to have at least $25m in assets under management (AUM) and the funds must have launched in 2021.
"After winning both ETF Suite of the Year for our China suite and Best Newcomer Active ETF for the KraneShares Global Carbon Strategy ETF (NYSE: KRBN) in 2021, we're pleased to keep our winning streak going with KCCA this year," said Luke Oliver, Managing Director and Head of Climate Investments at KraneShares. "Both our clients and the judges recognized that carbon allowances can be a source of low-correlated growth potential, which can also have a positive impact on the planet."
KCCA offers targeted exposure to the California Carbon Allowances (CCA) cap-and-trade program, which covers approximately 80% of the state's emissions. Visit the fund's webpage for more information on the KraneShares California Carbon Allowance Strategy ETF (NYSE: KCCA).
About KraneShares
Krane Funds Advisors, LLC is the investment manager for KraneShares ETFs. KraneShares is a premier platform that develops and delivers differentiated, high-conviction investment strategies to global investors.
Since 2013, KraneShares has become one of the leading China ETF providers. Given China's importance in addressing the global climate challenge, our Climate Suite is a natural extension of our China focus. KraneShares strives to deliver innovative first-to-market strategies based on strong partnerships and deep investing knowledge. KraneShares helps investors stay current on global market trends and provides meaningful diversification.
Krane Funds Advisors, LLC, is a signatory of the United Nations-supported Principles for Responsible Investing (UN PRI). The firm is majority-owned by China International Capital Corporation (CICC).
R_KS_SEI